Bali Water Sports Activities giving the fantastic experience marine adventures for everyone who desires to enjoy the exciting Bali Water Sports such as: Snorkeling, Parasailing, Jet Ski, Donut Boat, Water Ski, Flying Fish, Banana Boat, Wake Boarding and Turtle Islands and package of marine sport with competitive rates. To keep guest comfortable all Bali Water Sports Tour activities are ensured by high quality safety equipment and medical insurance. Just enjoy the exciting water sport activities of your choice.
Choose Our Selection Bali Water Sports Packages:
Bali Parasailing :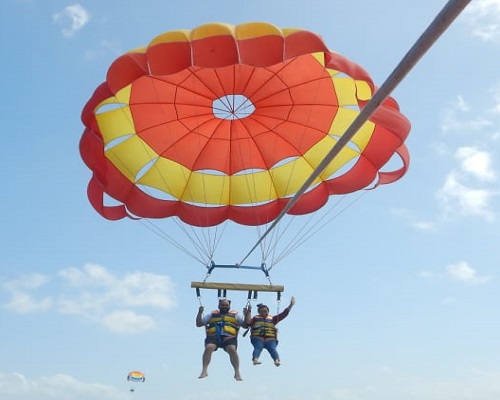 is a fantastic activity by hinging the body under airborne which is pulled by the speed boat to overview the amazing panorama of the coastal area. It will bring you to fly 95 meters above sea level and you can enjoy the beautiful panorama of Tanjung Benoa and surrounding area. The friendly Parasailing Guide will ensure you with the high safety equipment and short briefing before flaying off. Your experience will begin from take off on the white sandy beach
Price 1 round / 1 pax : US$ 20
Bali Snorkeling :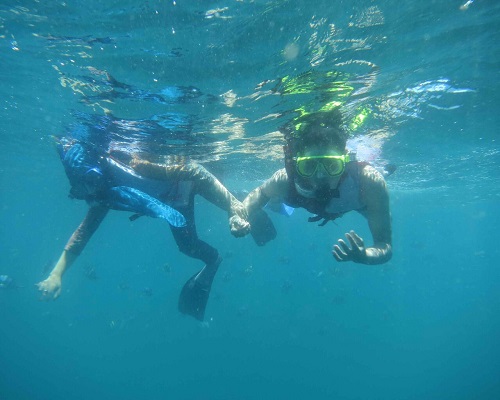 is one of the exciting marine activities to overview the beautiful underwater world. The beautiful coral, colorful fish and the unique life of underwater will be unforgettable experience on this great discovery. The tours will bring you to the right snorkeling point located in Tanjung Benoa Beach with fresh seawater and multifarious of tropical fish. The Snorkeling tour is well equipped by safety snorkeling gear involves life jacket, fin, snorkel, glass masker and snorkeling guide.
Price 60 minute  / 1 pax : US$ 20
Bali Jet Ski
is one of the activities by driving 700 cc motorize ski to explore the beautiful beach of Tanjung Benoa, south part of Bali. This sport is well equipped by life jacket and accompanied by the professional Jet Ski Guide to ensure your safety and security adventures. Bali Jet Ski is centralized at the beautiful beach with white sand stretch 3 kilometers from Nusa Dua to the peninsula of Bali. These Activities will bring you the great experience during your vacation in the Paradise Island of Bali.
Price 15 minute  / 1 pax : US$25
Bali Banana Boat
is the exciting water activities ride on the rubber boat in form of Banana and pulled by the speed boat. This adventure brings you to the fun situation along with partner or group which can give the memorable experience. The adventure ride on the Banana Boat is the most spectacular marine activities to explore the beautiful beach Tanjung Benoa
This beach is featured by the calm seawater that ideally for marine sport activities and Banana Boat is one of the perfect choices to be experienced.
Price 60 minute  / 1 pax : US$15 (Minimum 2 person)
Bali Turtle Islands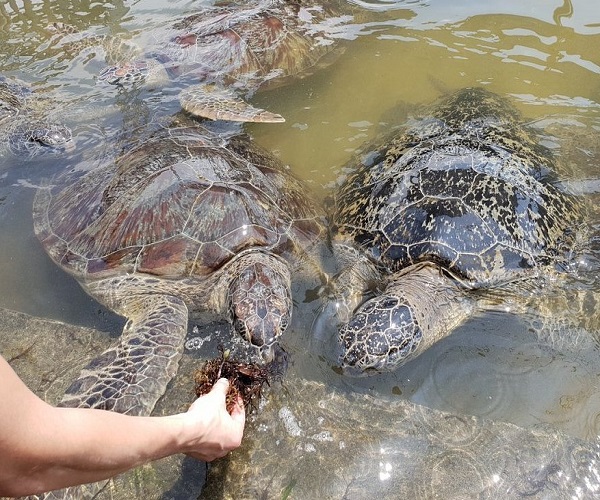 Turtle island tour is an exciting tour to visit a small island covered by white sand with turtle conservation located in Tanjung Benoa, South part of Bali. The tour is designed very attractive by crossing the beautiful beach with Glass Bottom Boat.
Price 60 Minutes / Min 2 pax : US$ 20
Bali Flying Fish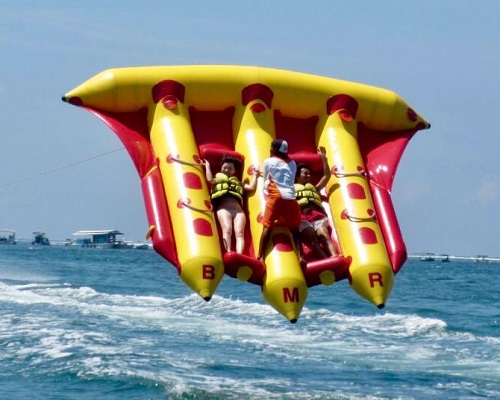 Bali Flying Fish is the ultimate in speed and exhilaration and  the newest water sports toy on the market!. The best choice for Flying Fish at Bali Islands.
Two people sit either side of the fish and hold on tight as the aerodynamics of the beast allow it to 'fly' as it gathers speed behind the boat. Alternatively one person lies in the middle and looks on through the window as you take off.
Price 15 minutes / Min. 2 pax : USD 20
Tubing
Tubing is an exciting way to experience the thrill of high speed water sports without the need for special skills or training and as such is popular with all ages and types. Tubing is where a large inner tube or rubber ring is tethered to a power boat and then one or more tube riders, or tubers, are towed at high speeds across large rivers, lakes or coastal waters.
Price 15 minutes : 1 pax : US$ 20
Bali Water Ski
is an exciting marine sport activity gliding on the ski board to explore blue seawater at  south part of Bali. This activity will bring you to the great experience by free run away on the seawater and pulled by the power boat. This adventure will force yours talent with great challenge to realize unforgettable memory. The high quality safety equipment, professional boat rider and experience guide instruction will ensure your adventures enjoyable one.
Price 15 minutes : 1 pax : US$ 25
Bali Diving
BALI is one of the most beautiful islands of Indonesia. It is not only culturally rich and physically a beautiful land, but it has also a marvelous underwater surrounding the island. Let's join Bali's most exciting dive trip!
| | | | |
| --- | --- | --- | --- |
| Diving Area | Min. of Person | Price/Person | Duration |
| Nusa Dua (No Lunchbox) | 1 | US$ 47 | 1x Dive |
| Lembongan | 2 | US$ 240 | 2x Dive |
| Amed/Tulamben | 2 | US$ 240 | 2x Dive |
| Padang Bai | 2 | US$ 200 | 2x Dive |
| Nusa Penida | 2 | US$ 240 | 2x Dive |
Glass Bottom Boat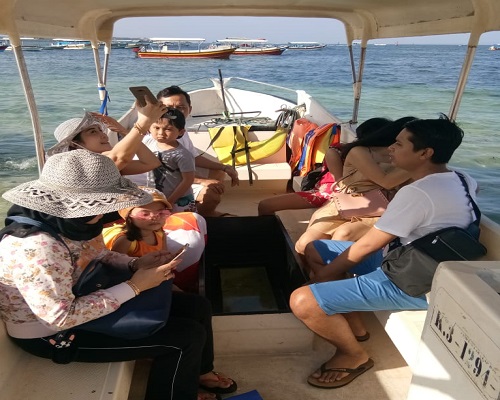 A glass bottom boat is a boat with sections of glass, or other suitable transparent material, below the waterline allowing passengers to observe the underwater environment from within the boat. The view through the glass bottom is better than simply looking into the water from above,
Price 60 Minutes / Min 2 pax : US$ 25
Bali Water Sports Tour Price include :
We provide life jacket for all Water Sports activities
Special for Jet Ski activity must be guided by Instructor ( No extra cost for the Instructor )
For Snorkeling included Fin, Mask, Snorkel and boat
For Glass Bottom Boat & Turtle Island Tour Children price (8 –12) year 50 % from adult rate.
About rates are valid with minimum guarantee booking is 2 Person.
Price are inclusive of Government tax & Service charge.
Payment : CASH PAYMENT. The additional charge of 4% will be charged if the payment is made by Credit Card on spot for Bank Administration fee
Bali Water Sports Pick Up Services :
Free Round trip hotel transfer is valid for hotel area in Tanjung Benoa, Nusa Dua area only, Outside of these hotels area will be charged additional fee.
Tuban / Kuta : Rp. 150.000,-/Car
Ubud / Tanah Lot : Rp. 250.000,-/Car
Seminyak : Rp. 200.000,-/Car
Pecatu / Uluwatu : Rp. 150.000,-/Car
Sanur : Rp. 200.000,-/car
Bali Watersport Package :
Package A
Parasailing, Banana Boat, Jet sky (must with instructur)
Price usd 30 ( minimum 2 person )
Package B
Parasailing,BAnana Boat,Jet Sky with instructur,Fly Fish
Price Usd 45 ( minimum 2 person)
Package C
Parasailing,BAnana Boat,Connely
Price USD 35 ( minimum 2 person)
Package D
1xDive,Snorkling,BAnana Boat
Price Usd 55 (minimum 2 person)
Package E
Ocean Walker,BAnana Boat,Jet sky with Instructur,10 mnt foot msg,lunch
Price Usd 60 ( minimum 2 person )
Bali Water Sports Terms and Conditions :
Water Sports activity at some time will be cancel depend on wind and weather condition which not safety for costumer and will be informed by us to the guest, it will no charge to the costumer/refund payment.
Cancelation made within 1 day prior to activity: From 11.00-17.00 at 50% of from the rate and from 17.00 up at 100% off from the rate.
Bali Water Sports Notice :
Water Sports activities is not suitable for pregnant women, people with heart problem, people is respiratory problem, currently has a sinus problem, recently has ear infection, has claustrophobia problem.